Are you thinking of replacing your old water heater? A new system can help you save on energy costs and bring a much-needed upgrade to your home. Learn about the many benefits of a modern water heater replacement today and find out if it's the right choice for you.
Increased Efficiency and Cost Savings.
A new water heater installation will provide increased efficiency and cost savings compared to an old model. Newer models are built with better insulation and materials, as well as advanced features, so you can enjoy hot water without wasting energy. This translates to lower energy bills since newer models use less energy than older ones. You'll also be helping the environment by cutting down energy consumption.
An Extended Lifespan for Your System.
By upgrading your water heater, you can look forward to many years of reliable hot water. Modern units come with solid warranties and lower demands on your energy consumption, making it a smart investment in long-term savings. The installation of a new system eliminates the need for frequent repairs and will offer fewer breakdowns when properly maintained, extending the lifespan of your unit significantly.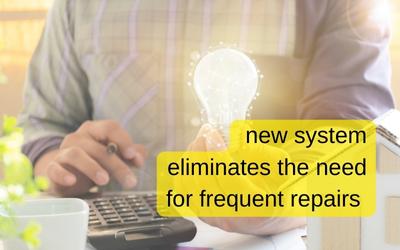 Improved Indoor Air Quality and Reduced Allergen Levels.
With a new water heater, you can also expect an improved indoor air quality and reduced allergen levels from the hot water system. This is due to the improved ventilation and filtration methods found in modern models, which help keep dust and other allergens out of your home's air. Many times, this results in cleaner air for the whole family.
Pre-Installation Assessment to Ensure Proper Fitment of Your Replacement.
Installing a new water heater requires more than just taking out the old one and dropping in a new one. Professional installers do an assessment of your existing home and its infrastructure to find the right fit for a replacement system. This process can include inspecting the local water sources, where the water heater will be mounted, and other relevant considerations. The objective is to make sure your system is designed to last as long as possible while providing you with efficient hot water.

Professional Installation Services Available from Trusted Contractors in Your Area.
Installing a new water heater is not something to be taken lightly. It's important to ensure you have the right team and product for your needs. Trusted professionals are available in your area to provide expert services that exceed all expectations with their installation process. Experienced specialists will help you get the most out of your new system, and guarantee it will operate safely for years to come.
Summary
Installing a new water water heater in your home can provide benefits such as increased energy efficiency, more consistent hot water supply, and potential savings on utility bills. It could also have advanced features like adjustable temperature settings or improved safety mechanisms. Additionally, a new water heater can significantly reduce the risk of leaks or water damage, providing peace of mind.